Austin Natural Soap News
OUR HOLIDAY SOAPS ARE NOW ON SALE! CHECK THEM OUT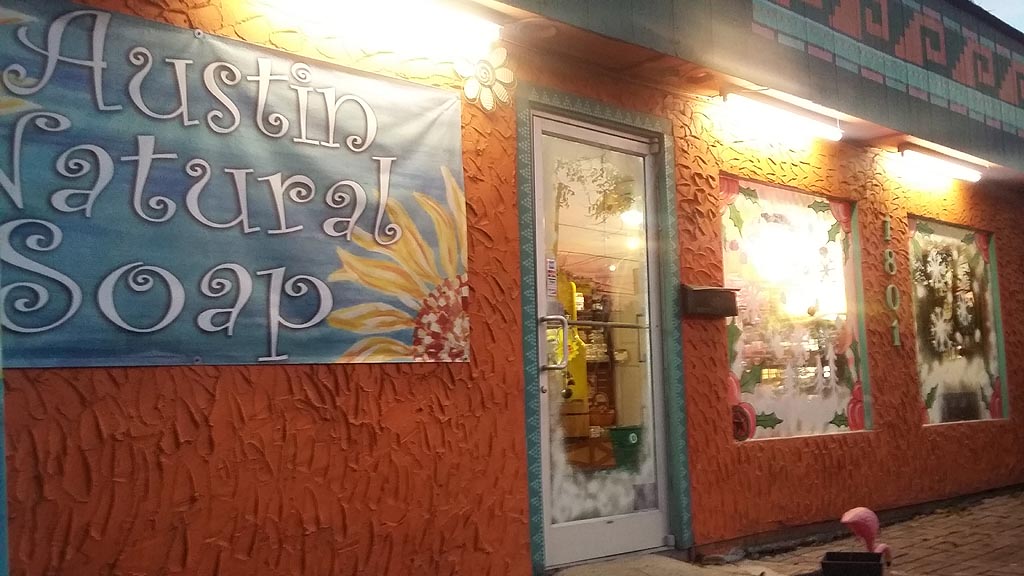 We have moved!
Please come by our new soap shop at

at the corner of Annie St., catty-corner to the famous Greetings from Austin Postcard Mural.

We are open 12-6pm Tuesday thru Saturday.

Call us at 512.440.7627

Please park anywhere on the street or use our parking lot directly behind the building.

OUR HOLIDAY SOAPS ARE NOW ON SALE! CHECK THEM OUT AT

Sugar Cookie, Gingerbread, Spiced Apple, Lump of Coal, Candy Cane, and Sugarplum

OUR SOAP IS FREE OF ANIMAL FAT, DETERGENTS, PHOSPHATES, PETROCHEMICALS, DYES, PHTHALATES, SULFATES (a.k.a. SLS SLES), MINERAL OIL, DEA/MEA/TEA, PARABENS, GLYCOLS, ALCOHOLS, SOLVENTS, PRESERVATIVES, AND FILLERS! OUR SOAP IS VEGAN FRIENDLY!

WHY DOES CORPORATE SOAP SUCK?

Corporate entities are profit-driven and cut corners we would never consider! They use the byproducts of the meat industry (fat from cows & pigs) as their base oils. We use luxurious plant-based oils (olive, palm, coconut, sweet almond, hemp seed, avocado, palma christi, jojoba, cocoa butter, shea butter, soybean). They add chemical preservatives. We use natural Vitamin E. They extract the naturally-forming, moisturizing glycerin from their soap to sell for a profit in lotion manufacturing. We keep the good stuff in! They often add detergent to boost their lather. We use just enough coconut oil to produce big, fluffy white bubbles - no chemicals or petroleum products needed!

Searching for natural alternatives to beauty and household products that are loaded with chemicals? Try these simple recipes:

Room Spray: Add 50-100 drops of essential oil to 8 oz. distilled water in a spray bottle. Shake before spraying. Do not spray near wood.

Face & Body Spritzer: Use 8-10 drops of essential oil for face or 30-40 drops for body. Add to 8 oz. distilled water in a spray bottle. Shake before spraying.

Hot Tub/Spa Scent: Add 10-20 drops of essential oil to the water.

Freshen Laundry: Add a few drops of essential oil to washing machine and/or a few drops to an old washcloth and throw in the dryer for fresh, clean laundry!

View old, but cool Austin Natural Soap News History below.

Copyright &copy 2000-2016 Austin Natural Soap All rights reserved. You may not duplicate any portion of this website.

Questions or comments? Contact Austin Natural Soap at 512.440.SOAP